The Hovgaard Klan

News
Features
Screenshots
Documentation
FAQ and knowledgebase
Contact and profile

Changelog
Download


Donations received in total:
$115 (11 users)


DOCUMENTATION

This page is related to the old version 2 - there is a newer 3-BETA version available but it has not yet been documented - please see the Download section

How do I install and start HovText?

To install HovText, just run the installation file, HovText20_setup.exe. After installation, HovText will start up and prompt you with some usage informations.




After HovText has started up for the first time, you will get in to the Options menu, where you can setup preferences in HovText (hotkey, startup, filters, history etc.).


Hotkey function




[Hotkey]
Activate the hotkey field and choose any key combination you wish to use with the below functions.

[Toggle active/inactive]
This function activates or deactivates the whole application.
When deactivated (red icon), the clipboard will return to its original contents.
When activated (green icon), the clipboard will get stripped for any formatting and only raw text will remain in the clipboard. You can paste the raw text into any application with the standard CTRL+V or SHIFT+INSERT (if the application accepts it).
This setting is preferable if you always want to remove the formatting from anything you copy.

[Remove formatting on hotkey]
Only when you use the hotkey, it will remove the formatting in the clipboard. You can paste the raw text into any application with the standard CTRL+V or SHIFT+INSERT (if the application accepts it).
This setting is preferable if you only sometimes need to remove the formatting from whatever text you copy.


Remove whitespaces/linebreaks and identical lines




When checked it will remove the leading and trailing whitespaces and/or linebreaks from the text.
It will also remove any identical lines, so there will only be "one of each".


Language




You can choose your language or you can have the "Auto" language. When auto is used, it will use the settings from your Windows regional settings.
Currently there are the following languages: Danish, Dutch, English, French, German, Italian, Norwegian and Swedish. Please note that because of missing translation, there is some text missing in Dutch, German and Italian :-/ (we could use some translators)


Start mode




The first three options (radio buttons) are how the application will act, when HovText is started up.
The last option will start HovText when Windows starts up.


Filtering




When checked, it will only paste any texts that applies to the choosen filter. For example if you have choosen "All links", you will only paste any type of webpage link, HTTP links, email addresses etc... anything that is in a HTML <A HREF> statement. All links will be copied one link per line.

Sample page when used with "All links" (this is from our Contact page):

Remove my settings from registry


When you check this option and you choose "Yes", all your personal settings in the registry will be removed. In this way you start all over, the next time HovText starts up.
After an uninstallation of HovText, the registry entries are also deleted - no mess in the registry, thanks :-)


History




Please note, that this above choosen hotkey (CTRL+1) is used in Mozilla Firefox (something about a shotcut to the tabbed browsing), but as I do not use this option, it is the best for my usage.
When history is enabled, you can recall any of the last 10 copied texts. The texts will be displayed down in the bottom right corner and you can choose how many seconds it will be displayed or how many lines you want to see.


Filters


Here you define what kind of links or text you wish to paste. As standard there are 9 predefined types... these fields can not be edited or deleted.
If you need any help regarding regular expressions, then please consult with Google or some other search engine - the web is full of great examples and explanations. Try eg. a Google search.


Where can I see if HovText is active?

Look in your tray-area (the bottom right corner). Look for the new green (or red) square icon.





If you right-click on the icon, you can choose your options in HovText.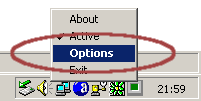 How do I uninstall HovText?

Go into your Control Panel and Add/Remove Programs. There you can uninstall HovText (I am sorry for the danish language, but I did not have access to any english Windows, when I made this screenshot).





If you want to use other icons?

If you don't want to use the standard icons and you would rather design some yourselves or use the below icons, then you should just name the files as below:
"active.ico", "inactive.ico" and "hotkey.ico" and place them in the same directory as HovText.exe.


| | |
| --- | --- |
| | Active |
| | Inactive |
| | Remove formatting on hotkey |
| | Active (rightclick on the icon file to save it) |
| | Inactive (rightclick on the icon file to save it) |
| | Remove formatting on hotkey (rightclick on the icon file to save it) |